What constitutes success? She has achieved success who has lived well; laughed often and loved much; who has gained the respect of intelligent people and the love of little children; who has filled her niche and accomplished her task; who has left the world better than she found it;...who has never lacked appreciation of earth's beauty, or failed to express it; who has always looked for the best in others and given the best she had.
-Bessie Stanley
The only ones among you who will be really happy are those who have sought and found how to serve.
-Albert Schweitzer
My mom turned 87 last month! We did a little homie lunch just me and our four girls. Homie things are best I think. : )
Mar helping out a bit...
Lea looking on...Let's see, what is this?
Mother, Mar and our married daughter, Michelle, sometimes we call her Delle because that is what Baby Becca used to call her. ; ) For over a year it has been a trial for Michelle healthwise but she is doing so much better now thank God. Oh wow, talk about why mother's get grey! Becca had to leave for work this day so we won't see her in the pics.
Someone said something really funny and Mother cracked up! (really cute I think) I love it when people are cracking up so hard they get that look!
Okay, time to calm down and look pretty. ; ) Yes, Mother is 87. A friend of mine attending Michelle's wedding asked Mother if she had had a face lift. No! With a big smile, she answered, feeling quite flattered!
Oh that quote up at the top? Yes, that describes my mom quite a bit. Quite a bit.
I found the material for the table up in the closet and as I sat and looked at it? I decided it would make an awfully pretty skirt...
We served a nice meal of my grandma from Naples' Eggplant Pasta. The cake is gluten-free sweetened with stevia! Marianna made the cake and helped me with the eggplant. She also made a whip of coconut milk flavored with stevia and cocoa powder. It's much like a cool luscious mousse.
I think everything was plumb luverly.
Stay, stay at home, my heart, and rest;
Home-keeping hearts are happiest,
For those that wander they know not where
Are full of trouble and full of care;
To stay at home is best.
-Henry Wadsworth Longfellow
I hope everyone is doing well, I'll start the close with music my mom and our entire family likes! Things are plodding along, many Mitford-like stories I observe and hear that I will be sharing...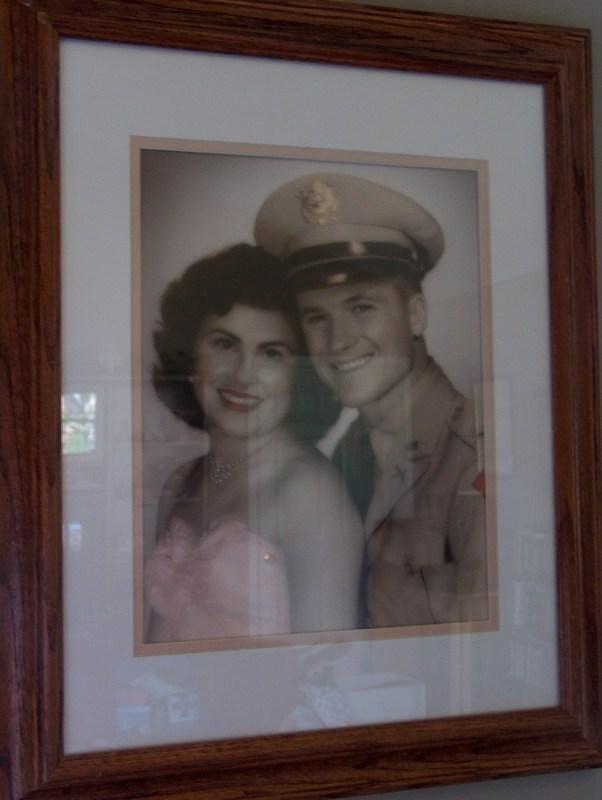 My mom and dad when first married in the early fifties. My dad is also 87 but has made some heartbreaking choices that none of us understand. I can't quite articulate much at this time, life is complicated and sometimes it's not our fault which makes it even more complicated and tangled in the theatre of our minds. My normally hand-wringing Italian mom told me not to be worried about my dad because she is not! ...And
that
was a God-moment.

This is always a cute movie, very, very neat and cheerful. My mom says Mickie Rooney is so much like my dad was when he was very young. Quite a character indeed. You can find the movie on youtube to enjoy if you like.
My mom is so sweet and so generous we all feel quite blessed! She just loved her little birthday and still talks about it. It's really cute. She is one of those rarities who keeps life simple and practical but is generous to others. Quality.

I hope everyone is having a great start to the week! I should be back blogging more smalltown-forest goodness soon!

Good evening, loves, -amelia



God delights to meet the faith of one who looks up to Him and says, "Lord, You know that I cannot do this--but I believe that You can!" -Amy Carmichael