This is so beautiful, my husband and I saw the clip of the Gaithers singing this and were so moved. This is a national hymn written in 1876 especially for the American Centennial then for the great celebration of our country.

I've been a busy-bee gardening and sewing, cooking our nightly dinners and such, tending to a little blind dog as well as my other fur angels. My days are full. My back was injured, pulling it in the garden last month, thank God for His healing power and His mercy. I now have an injured arm as just yesterday I ran from a poisonous snake just inches from me, it was ready to strike and I fell hard. My special homemade, designed dress I was wearing is ripped and muddy now and my arm is messed up as I fell on my arm in my panic. So...*smile* It's been one thing after another but God in His mercy sees me through. I think of Psalms 91 and the passage on serpents. Thank you Lord Jesus.

Some of you may wonder why I have removed my profile photo and other photos, I feel I need to tell you that I felt for safety sake I was forced to do these things. Someone who is supposedly a Christian who talks the talk, appearing to be a homemaker and who strongly dislikes our last President, believing the lies of the media has gone over boundaries with my photos and no telling what else to find information and do some not-very-nice unbelievably bold things. Enough said. But it is a shame and most disturbing. I'm praying for that person and I do have a godly care and love for them in my heart and hope and pray that they will see clearly and repent for what harm they have done.

I've become discouraged with blogging because I'm originally from a blogging community where it was community, real community. That blogging community went out of business and most of those people went to facebook, facebook is not my style for many reasons. Now what I've experienced are a few people who we may think are at least friends-lite so to speak but sometimes, even they will slap us down on their blogs in indirect but direct ways after we've reached out to them in various ways. It's not very nice nice of them nor is it very pleasing to God. So there we have it, and I do appreciate those few who are real and who truly love the Lord and act on that. I'm 60 years old, and always thought that people would grow up after highschool but unfortunately the same jealousy and immaturity tends to stick with some. Perhaps they like it as a familiar sin, there are people in the winter of life who are still petting familiar sin. Nothing new under the sun.

I do know I have Christian friends here who read and I appreciate you very much. We must go on for the Lord as Soldiers for Christ! I'm encouraged by those of you who are those loving Soldiers for Christ!

One Soldier for Christ was a priest who ministered in a very personal way to our family in the 60s in the NASA glory years. He was one of those very special soldiers for Christ. From a wealthy oil family he became a priest instead of an oil executive. The story of him arriving at seminary with expensive loafers and a sporty tan makes me laugh. He played football with the young guys and was just a very perceptive young man and onward. When I was a little girl I would stand waiting for my mama to come pick me up after ccd. I remember looking to my right and seeing the most handsome youngish man walking up to me down the sidewalk in front of the church, the drape of his black slacks flowing in the breeze in the afternoon-evening light...He would come and stand with me as my dad or my uncle would have done and braid my long waist length hair as I waited for my mom, he obviously did not like the thought of me standing by myself out there. When my mom pulled up, the three of us had a nice chat. I remember it like it was yesterday. I loved the care I found with this priest. He had noticed I went to communion all by myself at church, my mother remaining seated. My father had been married before, but that marriage was annulled. My mom and dad had been married in the Methodist church, (my dad's family was the old fashioned Methodist) they were married in that old fashioned Wesleyan church where I actually thought I had found a safe home in recent years after seeing for some 35 plus years the worst in various unstable churches. But unfortunately leftists have taken over and now it's woke. Very sad indeed, in fact, ...heartbreaking for me. I think of the beautiful two story tall stained glass windows of Jesus with His little Lambs looking upon what has happened over the past one hundred years...Oh the days during WWII and the prayers that must have gone up in that great cathedral...And now. Look at it. It looks to me that most if not all of the real soldiers for Christ left. I wonder now if some of the people in the pews know what the person or former person next to them had gone through to get there?

I think soldiers for Christ are in every Christian religion, it's the heart that counts that is sold out for the Lord. Yes, there may be extra baggage in every Christian religion as each side points fingers at times but it all goes down to who is spending time with the Lord and truly *knows* Him and hears His voice. Those who do His will, those who love God and hate sin.

Now a couple of shots of that priest that touched this little girl's heart back when, in those NASA glory days...
Father Connelly was probably one of the closest things you will get to the Father O'Malley character played by Bing Crosby in those glorious old movies: Bells of St. Mary and Going My Way. I highly recommend those movies. I often wonder if Father Connelly got inspiration from those movies when he was young.
Father Connelly with one of the astronaut's wives, one of my Sunday school teachers.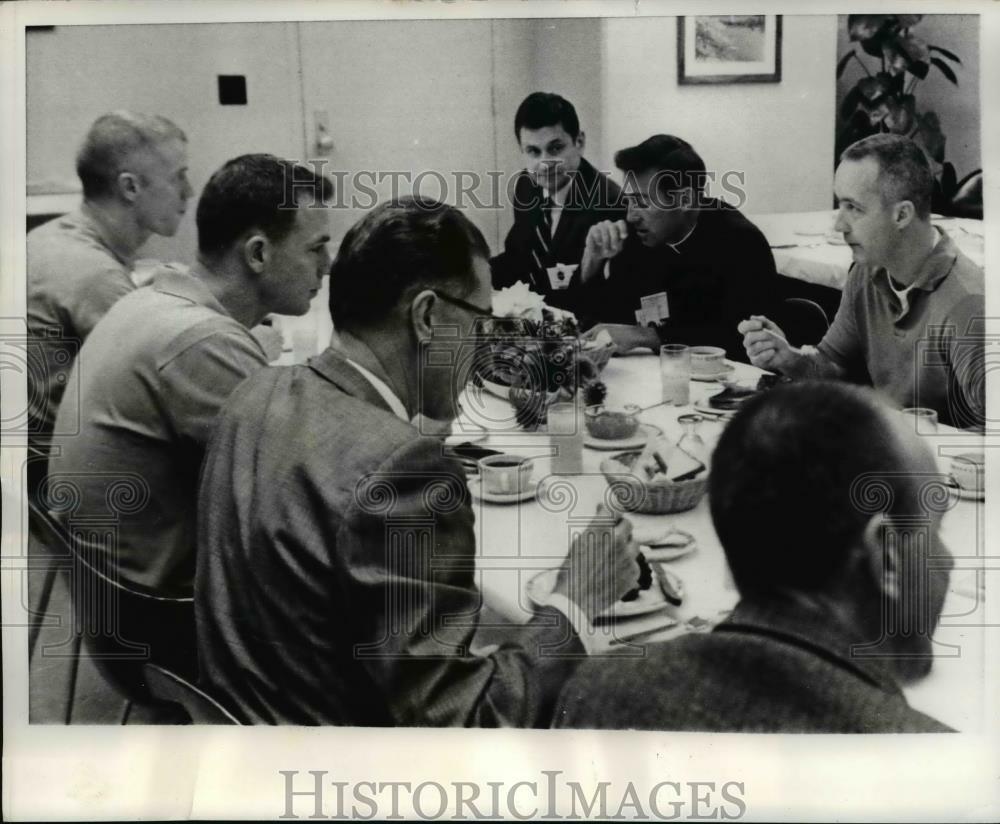 1969 Press Photo: Astronauts Schweickart, Scott, McDivitt, Father Connelly. Breakfast before the launch.
Father Connelly crossed over into Eternity with God last fall. I saw the notice in my husband's catholic highschool magazine. Surprising but not, never the less, a huge deluge of memories of that special Holy Spirit filled time came flowing in, memories of a very sensitive and intuitive special servant of the Lord. In this day and time we sure need them.

Well, I've been busy as I wrote, caring for our little blind dog and many other things too. I've spent this extra time just having a ball with the Lord though...and that time is divine! I encourage all to just be quiet, keep your plates empty enough to spend time with the Father. We can speak to His Heart and He speaks to our heart. He will!

Church is in my heart. I walk with Him and I talk with Him and we know each other very well. It's refreshing.
Some people are so busy going to church that they are not the Church. They have no time to behave as real Christians.


True Religion: "

If anyone thinks he is religious and does not bridle his tongue but deceives his heart, this person's religion is worthless. Religion that is pure and undefiled before God, the Father, is this: to visit orphans and widows in their affliction, and to keep oneself unstained from the world." James 1: 26-27


Our favorite sermons we currently listen to are those by Pastor Greg Locke. My favorite morning devotional is the original Streams in the Desert as I also read the Bible daily in the morning. My current favorite daily psalms are Psalms 37 and Psalms 91.





"Above all we must have courage--the fundamental virtue required in our time. Courage to stand and speak the truth. Courage to withstand epithets. Courage to face the mob. Courage to shrug off the scorn of the elites. When enough of us overcome the fear that currently prevents so many from speaking out...And courage begets courage. It's easy to stop a lone dissenter; it's much harder to stop 10, 100, 1,000, 1,000,000, or more who stand up together for the principles of America.
Truth and justice are on our side. If we can muster the courage, we will win."
Excerpt from Imprimis, the free monthly publication from Hillsdale College. (My edit)


Blessings to all from My Forest Cathedral